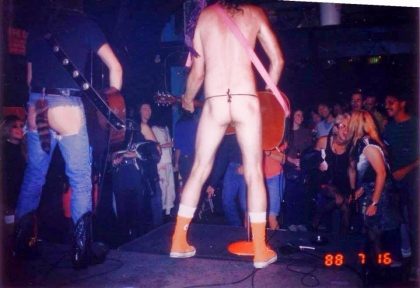 From "Whump! Growing up through the eyes of Generation X"
They added words to their name in later years, but the first twenty times I saw them, they were just plain Buck Naked. They did a kind of hard rockabilly, two acoustic guitars with pickups, drums, no bass, which often sounded a lot like punk. Their songs were all about sex, nothing else, just sex. They played hard and fast and were insanely funny, and fun. Buck himself was really a shy, aw-shucks kind of dude, and the lead guitar player, Stinky, was kind of quiet too. Onstage, they transformed into an insanely entertaining rock act. They were always playing with a band I lived with later, The Model Citizens, so I probably saw Buck Naked fifty times. They were great every time.
One night, an out-of-town band was supposed to open for Buck Naked at The Drumstick but were late showing up. When the band came out, nobody really paid much attention. They wore regular street clothes, played electric guitar, bass, a full drum kit, like every other band. They played for at least half an hour and were great, really distorted and nasty sounding, a melodic, sludgy punk rock. About halfway through the set, we recognized them. It was Buck Naked. No western wear, no silly banter, no acoustic guitars, no songs about buttfucking. When they were done, they went into the back room, changed their clothes, came out and played a regular Buck Naked set. It was amazing. When I went back and smoked a joint with them after the show, I suggested they should do this all the time, or maybe give up the goofy Buck Naked schtick and just be a rock band. And then we had a good laugh and lamented how there wasn't really anyplace for a real rock band to play.
Shared by: Tim Eiben
https://rememberthedrumstick.com/wp-content/uploads/2018/10/remeber-the_drum-stick-logo-bw-trans-420x249.png
0
0
drumboss
https://rememberthedrumstick.com/wp-content/uploads/2018/10/remeber-the_drum-stick-logo-bw-trans-420x249.png
drumboss
2022-11-14 18:30:03
2022-11-14 18:30:17
Buck Naked