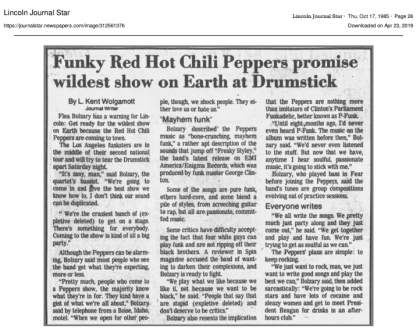 I have shared this story before- it is, unfortunately, the only time I was at the Drumstick, but it has been near and dear to me since 1986. It goes something like this-
October 1986- I had recently discovered the Red Hot Chili Peppers (RHCP) and was an instant fan. I had just moved to Lincoln from Omaha earlier that summer to be closer to the band I was playing in. That dissolved, but I remained friends with the singer (Jill) from the band. The evening RHCP was to play at the Drumstick, Jill called to tell me they were playing there. I was ecstatic! I had no car, so I ponied up for a cab. The weather was terrible. Heavy snow and very cold outside.
When I arrived at the venue, I was a bit skeptical. Such a small place for a band like RHCP I thought. I paid the amazing low price of $10(I think) cover charge and went inside. The place was packed, and it was hoppin'! I was just a poor musician working part time at Hot Shot (?) Waterbeds and had only enough extra cash for one beer. So, I went up to the bar and ordered. While I was waiting, I looked at the wall behind the bar and couldn't believe all the posters of all the big-name bands that had played in this small "dive" bar! 10,000 Maniacs, REM amongst those bands! I was blown away. I found a spot to stand (it was SRO) and watch the show. First band was Mannequin Beach, a local punk band that Jill's boyfriend played with. They were damn good. Then, comes a brain fart for me. I remember the band TSOL (Twin Sons of Liberty?) was on the bill, but there was some kind of conflict or altercation that they didn't play, or they did, and the third opener didn't. Whatever the band was that played next was loud and laid down a great set.
Next, we were all waiting in heavy anticipation as the stage gear is changed out for RHCP to play. They took the stage, and I and the crowd, I'm pretty sure, had arrived at nirvana (not the band). I believe they opened with True Men Don't Kill Coyotes. They played one or two more songs and Anthony Kiedis got on the mic and said, "We have been up here for 15 minutes and ain't nobody passed us a joint yet!" Instantly, several hands went up and joints were passed to the stage. Then, it all broke loose. The Chili Peppers laid down some of the most groovin' funk and beats I had ever heard. I could not tell if it was live, or someone was playing the record somewhere off stage. They and the groove were so tight you couldn't tell where the groove stopped, and the band began. It was about 3 hours of pure utopia. I was in total bliss leaving that show (fortunately, Jill was kind enough to give me a ride home). I was high on the experience (and maybe a bit of a contact high😉) for weeks after! I was telling everyone about that show and that venue.
The sad ending is, due to financial and personal reasons I had to move back to Iowa two months later and never made it back to the Drumstick. The happy ending is, I will always have the memory of that show and that place and those people. That's my story and I'm "Stickin' " to it…
Shared by: Jeff Furnald
Article courtesy of Lincoln Journal Star, added by Cathy Lohmeier
https://rememberthedrumstick.com/wp-content/uploads/2018/10/remeber-the_drum-stick-logo-bw-trans-420x249.png
0
0
drumboss
https://rememberthedrumstick.com/wp-content/uploads/2018/10/remeber-the_drum-stick-logo-bw-trans-420x249.png
drumboss
2022-02-10 15:12:43
2022-02-10 15:12:43
Red Hot Chili Peppers