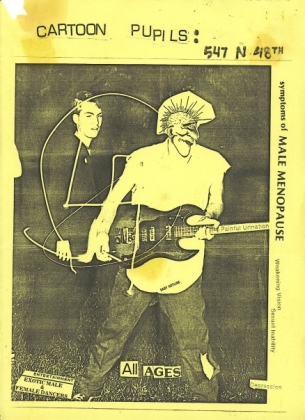 You must really, truly know how special the Drumstick was to all of us.  I have tears of happiness every time I think of "The Stick"! It was such a big part of my college experience and even though, in hindsight, that was only 4 years out of my life, they were the best memories of my life.
As a naïve freshman being talked into celebrating Halloween on a weeknight, Wednesday October 31, 1979, cramming into a crowded car of new found friends (come with us, it will be fun!); squeezing into the joint filled with happy goblins and assorted ghouls, shoulder to shoulder, pushing through the crowd, loud music pounding; my introduction to the Stick couldn't have been more satisfying, eye opening and my new found happy place.  I had the time of my life without even realizing we were making history!
So many memories of dancing all night, drenched in sweat. Listening to great music, scooping on the cute guy I had a crush on…oh, to be young again.
Thanks again for all your work on the documentary.  Your efforts have not gone unnoticed or unappreciated!
Sherry Belisle, Phoenix, AZ
https://rememberthedrumstick.com/wp-content/uploads/2018/10/remeber-the_drum-stick-logo-bw-trans-420x249.png
0
0
Cathy Lohmeier
https://rememberthedrumstick.com/wp-content/uploads/2018/10/remeber-the_drum-stick-logo-bw-trans-420x249.png
Cathy Lohmeier
2021-11-06 15:29:30
2021-11-06 15:43:40
Best Memories of My Life